Gary's Woodcarving and Golfballs
Hi, My name is Gary Freeman and I'm a woodcarver. I started carving in the fall of 1990 just to get a friend (Tom Brown) to stop bugging me. He was right about carving being a great hobby, because once he got me started I have never stopped. This is a really great hobby that anyone, with some training, can learn. If you would like you may e-mail me;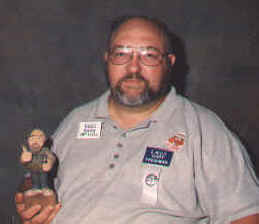 This is a picture of me holding a carving of me.
My wife, Mildred and I enjoy going to many carving shows each year. Most of the people we meet at these shows are like extended family. We know about their kids, their jobs, joys and sorrows. I guess you can say most are truly friends. Woodcarvers are truly "special people".
At present I am the Chairman of the Board of Directors of the Eastern Woodland Carvers Club Inc. of Converse, Indiana and I am also the editor of the clubs newsletter. My wife is the club Secretary. We belong to several other clubs, Affiliated Wood Carvers Limited in Bettendorf, Iowa, Dayton Carvers Guild in Dayton Ohio and the North Arkansas Woodcarvers of Mountain Home, Arkansas. We also enjoy shows at New Castle, IN with the Raintree Carvers and the Circle City Carvers of Indianapolis. These are some of the clubs from across the country that we enjoy.
I have worked at the International Woodcarvers Congress show for the last 6 years as a handler for the judges. This year started putting what I've learned from the many excellent judges at the Congress to good use. The Circle City Carvers in Indianapolis gave me the opportunity to judge their show. It was a great experience and now I am looking foreword to my next chance to judge.
################################################################################################
This is my latest creation in the golfball carving field. The Unique handcarved golfball is mounted atop a casting made from an original clay sculpture. The title is "That'll knock your hat off" and they are on sale for only $25.00. plus $5.00 for shipping and handling. On an order of (3) three or more shipping is free. You can click on the e-mail link at the top to contact me or to place an order. Payment may be made by check or money order.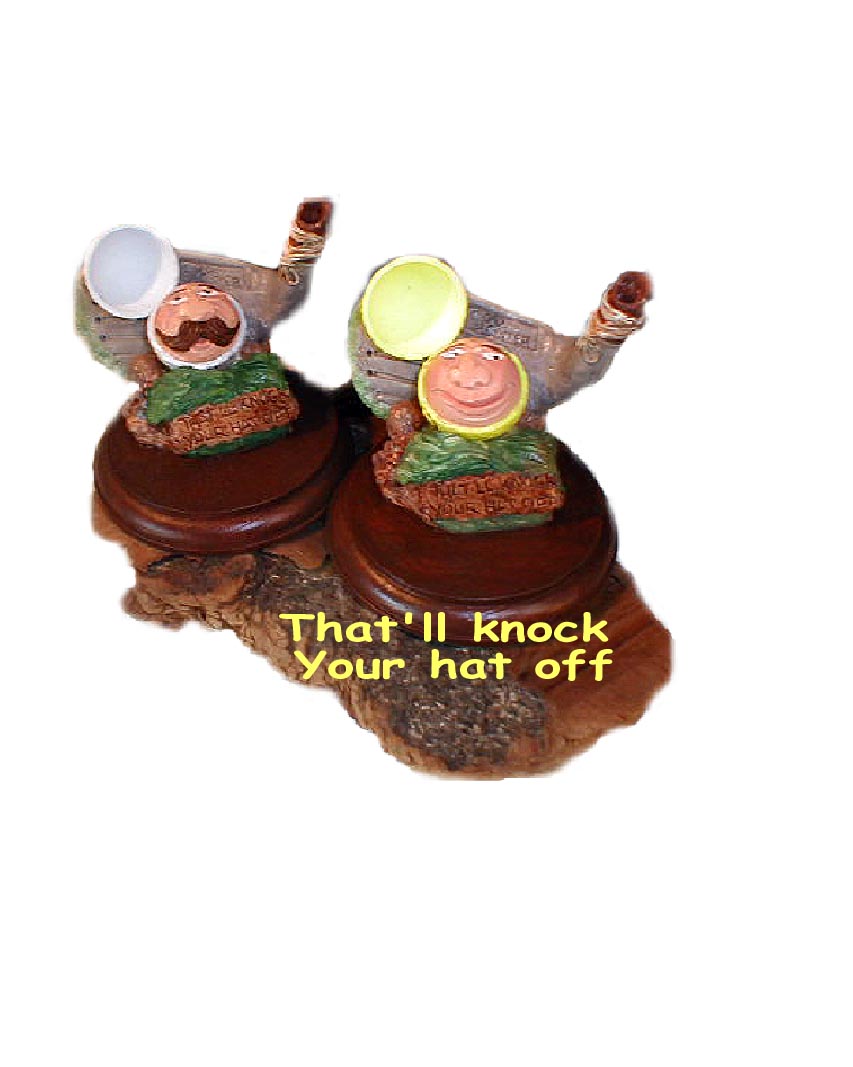 ****************************************************************************************************
Below you will see the cover of one of our carving club cookbooks. This book was compiled, printed, correlated, edited and bound by our club members. The club members submitted all the recipes so there is a great variety of really great treats inside. These books are really neat and the cost is only $10. plus $2.50 for shipping. There are more than 100 pages of recipes and even one section on carving tips. If you wish to purchase one or more you can send your check or money order to the E.W.C.C., P.O. Box 139, Converse, Indiana, 46919. Make the check or money order payable to "E.W.C.C. Cookbook".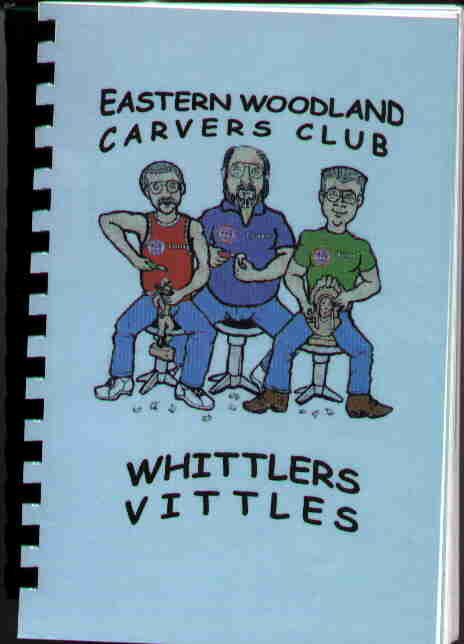 *************************************************************************
Gary & Mildred behind their table at Dayton Carvers Guild's "Artistry in Wood" Dayton, Ohio.


The Eastern Woodland Carvers Club in Converse has about 350 members. We also own our building. Our building is the only three story building in town. Our meetings are held on the second Tuesday of each month at 7 P.M. and are usually attended by 50 to 75 members. On all other Tuesdays at 6 P.M. we have open carve.
Every year in August on the second full weekend we hold a club picnic and campout at Tom and Lois Miller's ranch. We carve, swim, eat, sing and play music and camp. Not necessarily in that order and the EAT part needs to be repeated two or three times. We really do have some great cooks in the club and they always bring out some really great food. This event is usually a three day event.
We usually hold three (3) big name seminars in the building per year. Some of our guest instructors have been Rich Wetherbee, Chris Hammack, Rex & Vickie Branson, Harold Enlow, Dave Dunham, Pete Ortel, Joe Wannamaker, Jim Stadtlander, Jeff Phares, John Burke, Kurt Curtis, Bruce Nicholas, Bruce Henn, Linda Sales and Debbe Edwards.
Beginning in the fall we have the club open on some Saturdays for open carve starting at 10 a.m. and usually closing at 5 p.m. We list any Saturday Open carve in the newsletter so out of town people will know for sure when we are open.
Each year in October our club has a group of carvers and Crafty Ladies who attend an outing at Winnimac, Indiana. The event is called Bonnie's Pumpkin Patch and is a real ball. Many carvings, crafts, baskets and fall items are for sale. Ham and beans are cooked on an open fire for the entire gathering. There are horse drawn wagon rides and usually an opportunity to watch them pick corn with a one row picker. It's a great way to enjoy a nice fall weekend. This event is the second weekend of October each year. Come on out and enjoy the fun.
MORE OF MY PAGES; GOLFBALL FUNNIES, GOLFBALL CHRISTMAS ORNAMENTS, SANTA PAGE, E.W.C.C.
See below for links to some of my friends and don't forget to check out my other pages listed in blue above..
Just in case you need carving supplies, and who doesn't on an occasion, you can call
1-800-397-2278
the Woodcraft Shop from Bettendorf, IA
"IF YOU'RE NOT THE LEAD DOG, THE VIEW NEVER CHANGES."
You can get same day shipping and also ask for one of their great catalogues.
This site has been viewed
times.
Last updated on January 14, 2000

This Site is
Continually Under Construction
These are links to some of my friends pages, click on and enjoy a nice assortment of carving and woodburning
Affiliated Wood Carvers Home Page
Pyrogite - My Homepage - more than pyrography
http---www.geocities.com-SoHo-Village-4552-index.h...
http://beta.homestead.com/deckducks/yuck.html
http://nav.webring.yahoo.com/hub?ring=woodcarving2
Promote your site to
34 popular search
engines for FREE!

<P><table bgcolor=#F5FD95 border=1 size=20><tr><td align=center><table border=0 size=90%>
<tr><td align=center><font size="1" face="arial, helvetica"><strong><font size="2"
color=red>Promote your site to<br>34 popular search<br>engines for FREE!</font>
</strong><br></td></tr><tr><td><form method="POST"
action="http://www.addme.com/cgi-bin/smore.cgi"><input type="hidden" name="source"
value="form1"><font size="1" face="arial, helvetica"><strong>Title</strong>
<br><input size=12 name="title"><br><strong>URL</strong><br><input size=12
name="url"><br><strong>email</strong><br><input size=12 name="email"><br><br>
<input type="submit" value="Add Me!"></form></td></tr></table></td></tr></table><br>
--------------------------------------------------------------------------------------------------------------------------------------------------
<!--START COLLECTOR'S CONNECTION-->
<CENTER>
<TABLE BORDER=4 CELLPADDING=3 CELLSPACING=3 WIDTH=400 ALIGN="ABSMIDDLE">
<TR><TH>
<FONT Size=2>
<a href="http://www.geocities.com/SoHo/Studios/4806/"><img src="http://www.geocities.com/SoHo/Studios/4807/collectorpurple.gif" alt="Collector's Connection" align="left" WIDTH=100 HEIGHT=100></a>
This <a href="http://www.geocities.com/SoHo/Studios/4806/collector2.html">Collector's Connection</a> site is owned by <BR><BR>
<a href="mailto:carvers@comteck.com">Garys Woodcarvings and Golfballs</a></FONT><br><BR>
<FONT SIZE="2">
Want to join the <BR><A HREF="http://www.geocities.com/SoHo/Studios/4806/collector3.html">Collector's Connection</A>?</FONT></TH></TR>
<TR><TH>
<FONT Size=3>
[<a href="http://www.webring.org/cgi-bin/webring?ring=collector&id=229&sprev"target="_top">Skip Prev</a>]
[<a href="http://www.webring.org/cgi-bin/webring?ring=collector&id=229&prev"target="_top">Prev</a>]
[<a href="http://www.webring.org/cgi-bin/webring?ring=collector&id=229&next"target="_top">Next</a>]
[<a href="http://www.webring.org/cgi-bin/webring?ring=collector&id=229&skip"target="_top">Skip Next</a>]
[<a href="http://www.webring.org/cgi-bin/webring?random&ring=collector"target="_top">Random</a>]<br>
[<a href="http://www.webring.org/cgi-bin/webring?ring=collector&id=229&next5"target="_top">Next 5</a>]
[<a href="http://www.webring.org/cgi-bin/webring?ring=collector&list"target="_top">List Sites</a>]
</FONT>
</TH></TR></TABLE>
</CENTER>
<!--END OF COLLECTOR'S CONNECTION-->